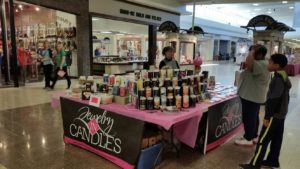 Introducing Capital Mall Trade Days.  A marketplace open to vendors of all types. Perfect introduction of your home base business, services, and crafts in a retail setting. Held once per month inside Capital Mall, booth spaces are $40 without power and $50 with power.
Fill out the form below to reserve your space now. You may reserve for any month in advance. Once payment is made your product line is reserved for the date of your choice.
2017 Exhibit Dates:
June 10, July 15, Aug 12, Sept 16 & 17, Oct 14 & 15, Nov 11& 12, and Dec 9 & 10. ( This year we will offer each Saturday in Oct, Nov and Dec for vendors who would like to participate in Trade Days for the Holiday season. Sign up now to reserve your product!)
Reservations may be booked in advance anytime by contacting Management office 573-893-5437. (Mon-Fri) or register below on contact form.
Booths are set up in the Common area of the mall so vendors may have the best opportunity to promote their products/services to mall patrons. Special mall events are set for the same dates to increase traffic.