Follow us on Facebook (Capital Mall) for event and mall information
Our lineup of events brings entertainment from around the state and beyond. From grand expositions, fashion extravaganzas to fun, interactive children's activities, there is something for the entire family to enjoy.
I'm sorry there are no events listed at this time. Please check back soon for updates.

Cole County Farmers Market in the southwest parking lot
06/02/2022 - 10/31/2022
Capital Mall Trade Days Vendor exhibit dates for 2022
07/01/2022 - 12/31/2022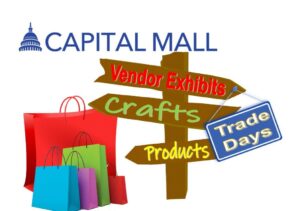 Capital Mall Trade Days Vendor Exhibit held inside the mall common area all year long.
2022 dates are as follows;
 July 9, Sept 10 & 11, Oct 8 & 9, Nov 19 & 20 and Dec 10 & 11.  Fill out the online registration from under "Registrations" to register for your product.  Once payment is made your have secured your product line.  Just bring your products, we will supply a table and two chairs.  Cost is $40. for each event date.
Sept-Dec two day events, choose either day for $40 or both days for $65.