Sales
Check out our latest Sales and Deals at Capital Mall. Don't wait until it's too late to buy from this great selection or you could miss out on huge savings. Make sure to keep checking back as we have many new sales though out the year!
High Voltage Arcade
08/16/2017 - 08/30/2017
Events
Our lineup of events brings entertainment from around the state and beyond. From grand expositions, fashion extravaganzas to fun, interactive children's activities, there is something for the entire family to enjoy.
Dunham's Now Hiring
08/17/2017 - 08/18/2017
 Job Fair in the community room Aug 17th and 18th
Community room is located in the JCP wing and across from Ross Dress for Less
Capital Mall Car Cruise
08/26/2017 - 09/30/2017
Missouri River Regional Library Bookmobile
09/07/2017 - 11/02/2017
Capital Mall Trade Days
09/16/2017 - 12/31/2017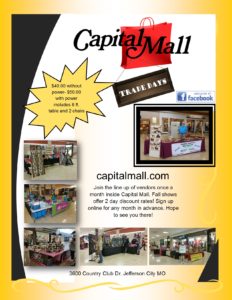 2017 Trade Days dates are;
Sept 16&17, Oct 14&15, Nov 11&12 and Dec 9&10.
NEW this year we will offer Trade Days each Saturday Oct -Dec! Register to secure your product line today!
Trade days is a vendor exhibit held each month all year long inside the mall!
Call 573-893-5437 or register online at capitalmall.com   Programs/ Trade Days information
Next exhibit is Sept 16th and 17th
ASK ABOUT OUR REFERRAL PROGRAM!