Sales
Check out our latest Sales and Deals at Capital Mall. Make sure to keep checking back as we have many new sales though out the year!
EASTER BUNNY March 17-March 31
03/17/2018 - 03/31/2018
Easter Sunday April 1
04/01/2018
Capital Mall will be closed on April 1 in observance of Easter.  We will resume normal hours on Monday April 2.
Dunham's Sports will be the only store open at Capital Mall, with access at their exterior entrance only. 
Their hours April 1 are 10am-6pm
Events
Our lineup of events brings entertainment from around the state and beyond. From grand expositions, fashion extravaganzas to fun, interactive children's activities, there is something for the entire family to enjoy.
Capital Mall Trade Days mall wide
03/10/2018 - 12/09/2018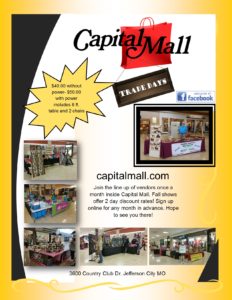 Trade days is a vendor exhibit held each month all year long inside the mall!
2018 dates are as follows:
March 10, April 21, May 19, June 16, July 14, Aug 11, Sept 15 & 16, Oct 13 & 14, Nov 10 & 11, and Dec 8 & 9th.
Register to secure your product line for any month in advance!
Call 573-893-5437 or register online at capitalmall.com   Programs/ Trade Days information
$40. for an all day exhibit!
Job Fair in the Community room (JCP wing)
03/22/2018
Capital Mall Car Cruise last Saturday every month
03/25/2018 - 09/23/2018